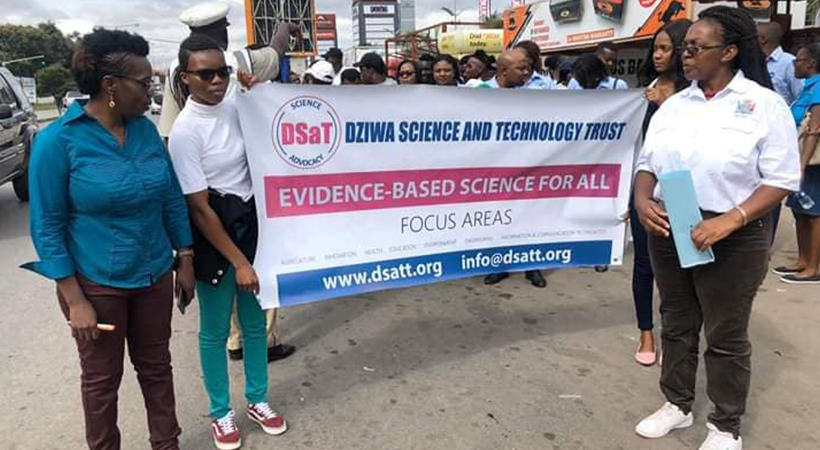 A graduate of the Script training course 'Science communications skills for journalists' and founder of the Dziwa Science and Technology Trust (DSaT Trust) has won a USD 19,782 grant to promote science journalism in Zambia.
Journalist Veronica Mwaba, who is also Executive Director of DSaT Trust – established in 2018 to promote improved information dissemination in science and technology – is one of 80 recipients of the COVID-19 Africa Rapid Grant Fund.
The fund, administered by the National Research Foundation (NRF), was established to address research questions and implement science engagement activities associated with the pandemic, with initial funding of approximately USD 4.75 million.
Ms Mwaba's project 'COVID-19: Linking Science Society to Better Lives – Science Journalism, Zambia' will help further the fund's aims of 'supporting knowledge generation and translation to inform diagnostics, prevention and treatment of COVID-19.'
It will also help the 'strengthening of African regional and continental science engagement efforts in response to the pandemic; and leveraging existing and new multilateral collaborations from international partners.'
Ms Mwaba, who previously worked as a Media and Public Relations assistant for the Alliance for Commodity Trade in East and Southern Africa (ACTESA) – a specialised agency of the Common Market for East and Southern Africa (COMESA), – took the Script course to enhance her skills in reporting on science-based stories in Zambia and across Africa.
Ms Mwaba said, "As a communicator, I have a duty to make contributions in communication outreach and create a platform for scientists to explain the benefits of science in a simple language to be understood. I have a dream to stand out as a science communicator not only in Zambia but Sub-Saharan Africa.
"I am confident that the combination of skills, education and experience will be useful to bridge the information gap between science, policymakers, key stakeholders and the public for effective communication outreach.
"To achieve this, I enrolled for the course organised by SciDev.Net specifically to enhance my skills in reporting accurately and engage on science-based stories. Therefore, I was so inspired to belong to a large network for mentorship and stay in touch with global networks to learn how to simplify science for targeted audiences."
Ms Mwaba holds an MA in Media Studies, Communication and Public Relations from the University of Leicester and has seen her journalism published widely. This includes contributions to the stories 'Govt must reconsider its budget allocation to ZARI' and 'Empower women in science and technology, government urged.'
Script is a free training and networking resource for journalists, scientists and anyone who wants to communicate science in an engaging and accurate way, and is implemented by SciDev.Net. It is made possible by funding from the Robert Bosch Stiftung.
The COVID-19 Africa Rapid Grant Fund is supported by South Africa's Department of Science and Innovation (DSI); Canada's International Development Research Centre (IDRC); the Fonds de Recherche du Québec (FRQ); the Swedish International Development Cooperation Agency (Sida); the United Kingdom's Foreign, Commonwealth & Development Office (FCDO); United Kingdom Research and Innovation (UKRI) through the Newton Fund; and the Science Granting Councils Initiative in Sub-Saharan Africa (SGCI) participating councils have collaborated and are funding this initiative, which was conceptualised under the auspices of the SGCI.
Additional information
Main image: Veronica Mwaba (left) is looking forward to promoting science journalism in Zambia through her DSaT Trust thanks to her award from the COVID-19 Africa Rapid Grant Fund (Credit: DSaT).
About Script
Script is made possible by funding from the Robert Bosch Stiftung and is implemented by SciDev.Net
It is a free training and networking resource for journalists, scientists and anyone who wants to communicate science in an engaging and accurate way.
Find out more about Script training by SciDev.Net – including courses, guides, news, and bespoke training from scripttraining.net
About SciDev.Net
SciDev.Net is the world's leading source of reliable and authoritative news, views and analysis about science and technology for global development.
Our Mission is to use independent journalism to help individuals and organisations apply science to decision-making to drive equitable, sustainable development and poverty reduction. SciDev.Net is part of CAB International (CABI) – a not-for-profit organisation that improves people's lives worldwide by providing information and applying scientific expertise to solve problems in agriculture and the environment.
SciDev.Net operates editorially independently from CABI with its content overseen by an independent Editorial Advisory Committee whose role is to ensure our editorial independence protocol is adhered to. The protocol is available on request.
Find out more about SciDev.Net
About DSaT
Established on 26 January 2018, DSaT Trust aims to promote improved and information dissemination, especially in the field of Science and Technology. Our essential building block is premised on the desire to advance a viable and robust link between Science and Technology and the end user through effective science communication and advocacy. The organisation notes that the media play an essential role in communications outreach. However, science and technology are not given sufficient space because they are not considered human interest stories or are generally perceived as a complex subject.