JOURNALISTS GET COVID-19 VACCINE TO PERSUADE CITIZENS TO GET VACCINATED
………As DSaT calls for enhanced public trust in Covid-19 vaccination.
Dziwa Science and Technology Trust (DSaT) has urged members of the public not to drop the guard against coronavirus.
DSaT Executive Director Veronicas Mwaba has since advised them to maintain high levels of personal hygiene and adhere to all covid-19 preventive measures.
Ms Mwaba further encouraged citizens to get vaccinated in order to protect themselves from the fourth wave which is expected to hit the country in December.
She however, noted with concern that some members of the public are not taking the covid-19 jab seriously because of the myths surrounding the vaccines.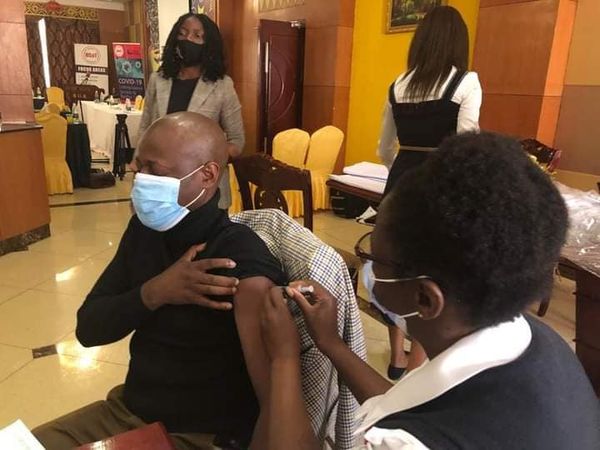 Speaking during a media science engagement workshop held in Lusaka today, Ms Mwaba implored the media to counter the myths and misconceptions on vaccines in a bid to encourage many people to get vaccinated.
Meanwhile, Ms Mwaba says as a way of raising awareness on covid-19, DsaT through the Linking Science Society to Better Lives project, is supporting 12 community radio stations and journalists to encourage people to protect themselves from the lethal virus.
At the same event, Director of Health Promotion, Environment and Social Determinants in the Ministry of Health, Dr Abel Kabalo who officially opened the workshop, appealed to the media to step up communication efforts in order to influence positive behavioral change in communities.
Meanwhile, the Zambia National Public Health Institute and the Ministry of Health facilitated a mobile vaccination exercise at the workshop and a number of journalists voluntarily got vaccinated.